Pillows and great valued gift packs for Dad this Father's Day - Sunday 3rd Sept!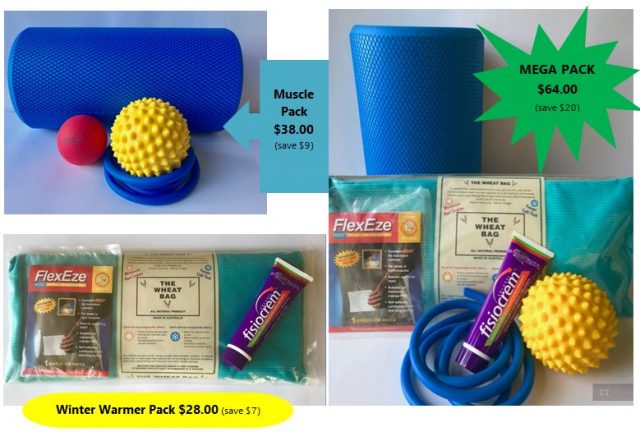 3 different gift packs to choose from:
MEGA PACK $64.00 includes Large Wheat Bag, 60g fisiocrem, spikey ball, resistance band and small foam roller. (save $20)
WINTER WARMER PACK $28.00 includes Large Wheat Bag, 60g fisiocrem and FlexEze Heat Patch. (save $7)
MUSCLE PACK $38.00 includes small foam roller, spikey ball, lacross ball and resistance band. (save $9)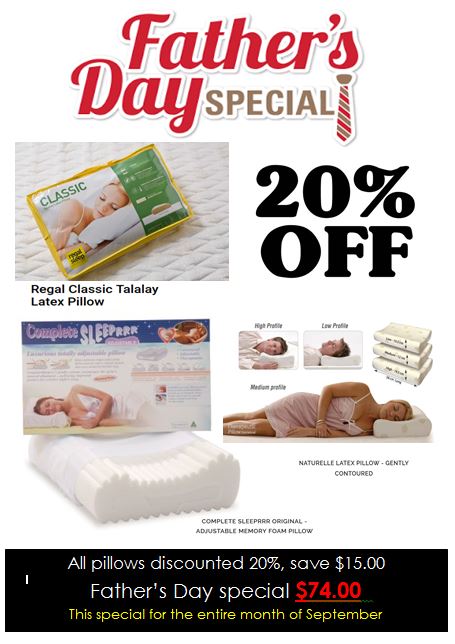 Come in and have a look at our pillow range.
Regal Sleep Classic Latex Pillow.  This pillow is comfortable and supportive suitable for both back and side sleepers.  Its made from Natural Talalay process latex which is ideal for pulmonary allergy sufferers.  It also includes a Bamboo rich removable cover.
Complete Sleeprrr Adjustable Original Pillow.  This pillow has two removable inserts allowing you to change the shape and height to suit your comfort and postural needs.  Takes the risk out of your pillow being too high, too low, too hard or too soft.  One size fits all!
It is a memory foam pillow of soft density.  You can even remove the foam 'noodles' if you require a softer pillow.
Luxurious Naturelle Pure Latex Pillow.  In 3 great sizes to suit.  High 14.5cm, Medium 12cm & Low 10.5cm.  Sumptuously soft and wonderfully supportive.  Designed for all sleeping positions and physiques.  It conforms to the shape of your head and neck to provide continuous support throughout the night.  Special core construction means it 'breathes', no sweating!  Hundreds of tiny cores have been created in the Naturelle latex pillow to allow air to flow for a more hygienic sleep environment.  The world's best latex pillow!